Opportunities
»
Free Associate Membership
Products and Services
»
Sqribble
»
Super Solo Ads
»
Extreme Traffic Pack
»
12 Memberships FREE for LIFE
Free Stuff
»
Internet Marketing For Newbies
»
FREE Classifieds
Free Traffic Packages
»
500,000 Mega Ad Credits
»
Promote To ONE Million
Brought To You By
Nathaniel Weems Sr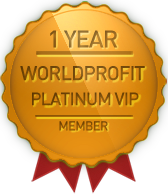 Published by: Nathaniel Weems Sr on 25-Apr-20
How To Use Lead Generators
How To Use Lead Generators
I want to talk to you today about how to use lead generators.  If you are a free member of world profit you can get the lead generators which is on the left menu under Goody Bag/Freebies.  
Once you click on that you will come to Lead Generators click on that and it will bring you into the Lead Generators area and you will see all the products that you can promote to bring in New World Profit Associates.
Ask anyone who are trying to make money online and they will tell you that build your list first I have heard that so many times that I am actually doing it now after years of ignoring it.  
The Lead Generators helps you build a list and once you get a decent size list you can start to offer them Click-Bank Products and make a nice commission from it.
To build your list the right way you have to have a product that you can give away at World Profit the lead generator program does just that you don't have to go around looking everywhere on the internet to get a product you can give away.  They are all in the lead generators area.  
All the products that are in this area have great sales pages and their all free to anyone who fills out the form to joins under you.  Even on the sales page you will see your name on the top this makes you an expert on the product and people will follow you into the World Profit FREE Associate program.
This is a great way to build your list giving away free stuff and if you ask around you will find that all marketers will agree giving away freebies is the way to go.  You never want to try and sell anything on Safelists and Traffic Exchanges ! You might get a couple of sales but that will be it you sell things to your list when you build it.
I hope you find the video useful and a  help to you in the future for your Marketing.  Here is a FREE Gift for taking the time to look at my video I hope you get something out of it.  The FREE Ebook is about how to use safest in your marketing good luck.
http://safelisttactics.trafficcenter.com/?id=45013
Resource